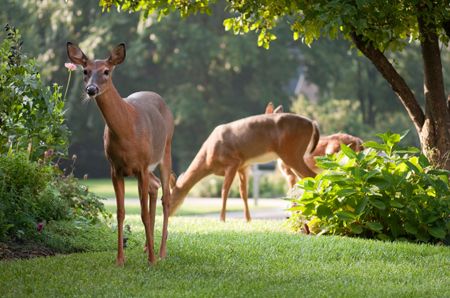 If you own a home in the country, you know the problems you can have with unwanted birds, small animals and critters. Scrounging through trash cans and other areas of your property, they can create quite a mess. This in turn can draw other critters. While some property owners resort to lethal means to get rid of pest birds and critters, there are non-lethal means available. These deterrents are both effective and humane. Here are a few you might consider:

Bird-B-Gone Sonic Shield™

This specially designed pest control device frightens birds and other unwanted critters using sound and light. The Sonic Shield™ is completely self-contained and totally portable since it runs on 4 AA batteries. This means you can set it up almost anywhere you have a pest bird or critter problem. You can run the Sonic Shield™ two ways for complete 24/7 pest deterrence: there's the daytime mode to repel pests using loud dog (a predator for most birds) and barking dog sounds; and a nighttime mode that repels pests using only flashing LED lights—recommended for areas where night noises are not allowed. The Sonic Shield™ is both safe and humane for birds and critters.

Bird Spikes

Proven effective in installations worldwide, Bird Spikes will keep large birds like crows, gulls and pigeons from perching around your home. The spiked strips are easily installed on fencing, rooflines and chimneys using glue, screws or tie-down straps. Bird spikes come in rigid UV-resistant unbreakable polycarbonate or high strength, durable stainless steel. Plastic (poly) spikes are slightly less expensive and ideal for use on long fences. The best bird spikes are made in the USA and will have a flexible base that conforms to flat or curved fencing.

Transparent Bird Gel

Ideal for use on flat fencing and other extended areas where birds tend to perch, Transparent Bird Gel leaves a sticky surface birds won't want to set foot on. The best bird gels remain sticky for up to 6 months after being applied. Bird gels have shown their effectiveness in deterring a wide range of pest birds—including pigeons, sparrows, crows, gulls and starlings. Be sure to clean off nesting materials and droppings before you apply these gels. Birds are naturally attracted to the scent of nests and droppings and will regard the area as non-threatening and habitable.

Bird Chase Super Sonic

Ideally suited for large acreages found around country homes and estates, Bird-B-Gone's Bird Chase Super Sonic will keep birds from gathering around "problem areas" of your property. This scientifically designed device emits a series of pre-recorded distress and predator calls that birds consider their natural enemy (e.g., falcons and hawks). If your property is being invaded by several bird species, the Bird Chase Super Sonic emits distress and predator calls for 22 different species of birds. So you're covered for a full range of winged critters.