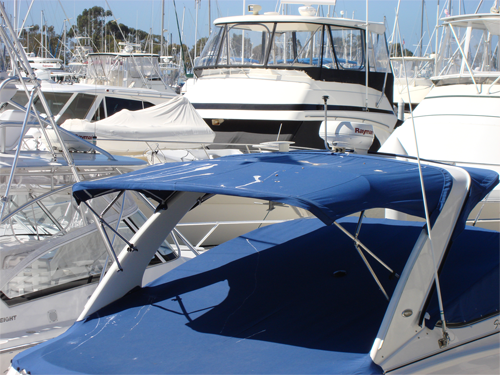 Birds can be a costly nuisance around boats and marinas. When they perch and roost on seaside structures, bird droppings can deface and damage signs, windows, rooftop HVAC units and rain gutters. Docks, railings, walkways, boat houses, pilings and swim platforms can quickly become inundated with bird droppings, leaving an unsightly mess that can create a slip-and-fall hazard. Large birds like gulls, geese, ducks and cormorants can "unload" sizable droppings that require frequent and costly cleanups.

Without effective bird control, boat owners and boat rental outfits need to constantly clean their boats of droppings. Left to accumulate, these droppings can damage boat covers, spreaders, window gaskets, sails, outboard engines, sliding doors, deck surfaces and antenna arrays.

Both boat owners and seaside businesses need to be proactive when it comes to bird deterrents. Achieving effective bird control calls for proven devices that deter birds humanely and keep them away. Here are some devices you should consider to keep pest birds away from your boat or marina business:

The Repeller 360

Using a large, wind-powered sweeping arm, The Repeller 360 is designed to keep large birds like pigeons, crows, gulls, cormorants and raptors away from both boats and marina structures. The Repeller 360° is "armed" with large, reflective "predator eyes" that add to its threatening appearance and function. The device is easy to set up on virtually any flat surface. Rotating continuously in the slightest breeze, The Repeller 360 covers a full 6-foot diameter to keep birds away.

Bird Spiders

Also wind powered and quite effective, Bird Spiders feature wildly flailing arms that whip about in the breeze to frighten birds away. A few bird spiders placed strategically on rooftops, canvas covers and boat decks will cause gulls, cormorants, pelicans and pigeons to simply move on. Bird spiders come in 2-, 4-, 6- and 8-foot diameter arm lengths to create wider and wider circles of deterrence. The best bird spiders are made in the USA and feature a glue-on base for effortless mounting. These spiders will also have a UV-protected polycarbonate base for lasting durability in harsh water-front weather. Removable sand bag bases are also available, which let you set bird spiders up virtually anywhere. Additional mounting bases allow for easy placement on masts and radar units.

Stainless Steel Bird Spikes

Used by boat owners and marinas worldwide, Stainless Steel Bird Spikes provide anti-perching, ant-roosting protection for rooflines, parapet walls, signage and other lofty areas. Installed on boats,they prevent birds from landing on masts, rooftops, and areas around antenna systems. The most rugged and seaworthy bird spikes are made in the USA of stainless steel, with pins embedded in a UV-protected polycarbonate base. These spikes are guaranteed for 10 years. The spikes come in 1", 3", 5" and 8" widths and have a 1.5" base, which allows you to mount the spikes on very narrow surfaces. The best spikes also have a built-in a glue trough and feature pre-drilled mounting holes for fast, easy installation.