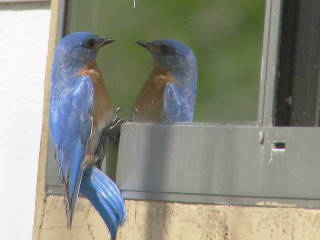 If you're a homeowner, you've no doubt had problems with birds around your windows.
They may sit on your window sills and peck at the glass, reacting to their reflection, thinking there's another bird on the other side. Cardinals, Purple Martins and other small birds appear most likely to peck at their own reflection in windows and glass doors. You may have also encountered birds flying into your windows and sliding glass doors who believe the reflection is a landscape and not a solid surface. Bird window strikes can injure and kill birds.

The solution is effective and humane bird control for your windows and sliding glass doors. Some advice from the pros to prevent bird strikes and birds pecking at your glass:

Plastic Bird Spikes

Easy to install around window sills, Plastic Bird Spikes will keep birds from perching and landing. The spiked strips typically come in 3-, 5- and 7-inch widths. After a few unsuccessful landing attempts, birds just give up and move on.

Bird Alert Pecking Deterrent

Ideal for use with robins and cardinals, this long static-cling decal is easily placed at the bottom of a window to prevent birds from pecking at the glass. Each package contains one 48" x 6" decal. Bird Alert decals reflect ultraviolet light, which birds will see and realize the window is a surface and not a continuation of the landscape or an intruder in their territory. The decal can be easily removed and re-applied.

Window Alert Decals

These static cling decals are easily placed on windows and glass surfaces to prevent bird strikes. Window Alerts reflect ultraviolet light that birds will see to let birds know a hard surface is directly ahead of them. The decals are nearly invisible from the inside of the glass and can be removed for later use. Window Alerts are sold 12 per pack and one decal protects two or three square feet of glass.

Transparent Bird Gel

Easily applied, practically invisible, and very humane, Transparent Bird Gel leaves a sticky surface birds hate to land on. The best bird gels will last up to 6 months before needing to be reapplied. Gels are highly effective against pigeons, crows, gulls, starlings and many other species of larger birds. Be sure to clean off nesting materials and droppings before you apply these gels. Birds are naturally attracted to the scent of nests and droppings.

Bird Chase Super Sonic

Designed for large areas, Sonic Bird Deterrents will not only keep pest birds away from your windows but prevent birds from gathering around other problem areas of your home. These devices emit a series of pre-recorded distress and predator calls that birds regard as their natural enemy (like falcons and hawks). If you're being inundated by several bird species, get the Bird Chase Super Sonic. It emits distress and predator calls for 22 different species of birds.