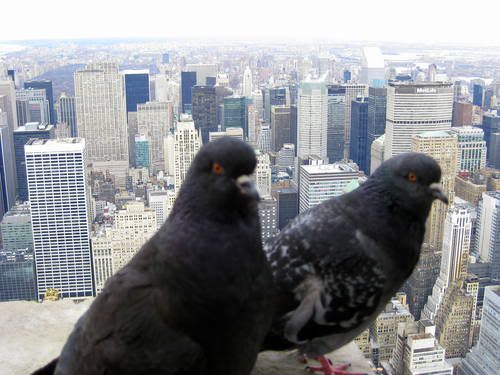 by Alex A. Kecskes

Almost everyone has heard about pigeons invading parks and monuments, shedding their disease-carrying droppings on statues and contaminating ponds and playgrounds. But pigeons also pose a problem to many businesses. And perhaps the least mentioned are the many problems pest pigeons pose to gas stations.

Take your basic gas station canopy, for example. Once pigeons have claimed them and decided to nest on them, it's just a matter of time before a flock of pigeons can ruin your average $25,000.00 canopy.

Why do so many pigeons like to nest on gas canopies? Simple. They provide a great observation point for pigeons. The resourceful birds like to sit along the canopy edges and survey the area. And if you've ever seen how these canopies are built, you know that they easily provide plenty of protected nesting sites on their undersides and gutter areas.

Unless you get rid of pigeons, the flat metal roof areas will soon be covered with pigeon droppings and nests. Both will clog the canopy's drains and eat away at the canopy's paint and metal. After a rain, one can't help but notice the brown residue and offensive odor caused by collected pigeon droppings and nesting debris. This debris and unsavory odor will collect on the covered paved areas of a gas station and create and unwelcome site for customers. Worse yet, left to gather in the wet, pigeon droppings can cause dangerous slip-and-fall hazards to customers and employees. After several years, gas canopies can even become structurally degraded to cause a possible hazard for motorists and workers.

So what to do? If high gas prices aren't enough to keep motorists away, do you really need pest pigeons? Fortunately, there are several humane and highly effective ways to get rid of pigeons.

Intimidating Bird Spikes

The mother of pest bird deterrents, the Bird Spike has saved more buildings and structures from pigeons than perhaps any other deterrent. Bird Spikes get rid of pigeons because they simply can't negotiate a landing around them. The spiked strips come in rigid U.V.-resistant unbreakable polycarbonate, or longer-lasting, slightly more expensive stainless steel, which you can get in a non-reflective metal finish. These days you can even get bird spikes in a full spectrum of colors--including white, tan, gray, black, brown, brick red and crystal clear. The spikes are easily glued or screwed to any surface. Choose the Girder Spike for keeping pigeons off girders or I-beams (they come with adjustable "C-clamps" to fit any size girder). To keep pigeons off rain gutters, there's the Gutter Spike. The best bird spikes are blunted, safe for birds and maintenance crews and GSA approved.


Virtually Invisible Bird Slopes

Install these in the 90-degree nooks and crannies of your gas station canopy and pest pigeons will never be able to land. Bird Slopes are angled, slippery PVC panels that pigeons can't seem to get a grip on. The panels come in a variety of colors to blend in with your gas station's aesthetics. U.V.-stabilized polycarbonate panels are best as they stand up to years of inclement weather.

Wobbly Bird Wire Systems

This is a great way to get rid of pigeons. They'll wobble and shimmy off these Bird Wire Systems like Bozo on a banana peel. Pigeons, like most birds, prefer stable landing areas. And bird wire systems with their post-and-spring-wire set-ups are anything but stable. String these systems on the roofs of canopies or their undersides and forget about pigeons. The systems are easily installed, and even used on Federal and State government buildings. The best systems feature nylon coated stainless steel wire for lasting durability.

Barrier Pigeon Netting

Exclusion is the name of the game. And Bird Netting keeps them out of the corners and recesses of your gas station canopies like few bird deterrents can. It gets rid of pigeons by denying them access to these areas. The best netting is made from ISO 1806 mesh test polyethylene fabric. If you want the netting to last, get U.V.-stabilized, flame-resistant and rot and waterproof netting. Non-conductive netting is available for installations where electrical conductivity or radio frequency interference could cause problems--probably a good idea in gas stations. You can even get netting in several different colors--like including white, stone and black.

Stick it to 'em with Bird Gels

Like most birds, pigeons can't stand walking on these sticky gels. They get that stuck-in-flypaper feeling and can't wait to leave. Bird Gels are easy to apply using a standard caulking gun. The chemical skins over and stays sticky for up to six months.