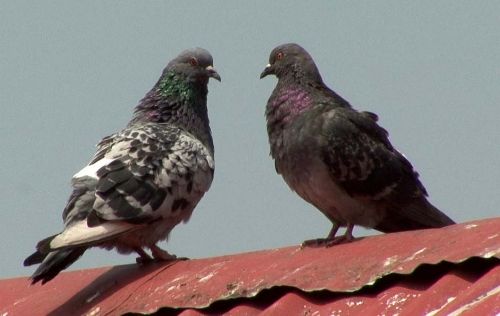 If you're like most homeowners, you want to keep the outside of your home looking fresh and clean. But pest birds can change all that. Their droppings and nesting debris can quickly deface and often damage your home. Areas most vulnerable include siding, windowsills, patio cover, decorative weather vanes, solar panels, skylights, awnings and fencing. Birds that typically cause problems include pigeons, sparrows, starlings, swallows and gulls. To keep bird pests at bay, the bird control experts at Bird-B-Gone have four suggestions that can help.

1. Remove Attractions. Get rid of standing water, keep trashcan lids secure, clean up any leftover food after parties or get-togethers, and trim plants and vegetation.

2. Install Bird Spikes. Bird-B-Gone Stainless Steel Bird Spikes won't allow pest birds to land on or near them. These humane, highly effective bird deterrents feature rows of stainless steel spikes embedded in a UV-protected polycarbonate base. This makes them highly durable and ideal for outdoor use. Bird spikes are used worldwide to keep bird pests off ledges, rooflines, eaves, windowsills, awnings and canopies. The spiked strips come in two-foot sections and three different widths—3-, 5- and 8-inch—to match the width of the "problem" area. The base of each spiked strip is just 1.5 inches wide, so it's easily installed on narrow surfaces using screws, tie downs or glue.

3. Install a Sonic Bird Deterrent. Bird-B-Gone's Solar Bird Chase Super Sonic broadcasts distress and predator calls that intimidate birds. You can set it to scare any of 22 specific bird types or choose the general setting to intimidate virtually all birds. Scientifically developed with the help of ornithologists, Solar Bird Chase Super Sonic repeats these calls every 10 minutes to convince birds that dangerous predators are near. Unlike ultrasonic devices that emit high-frequency sounds birds can't hear, the Bird Chase system is fully audible to birds, yet it won't annoy pets or neighbors. The device comes with a built-in speaker that will cover up to an acre.

4. Create Visual Distraction Zones. Bird-B-Gone Visual Bird Deterrents will scare birds away. The most basic is Flash Tape, a 50-foot roll of iridescent foil tape that you cut into short strips. Hung in high visibility areas, the strips crackle in the breeze and reflect sunlight to scare birds away. No less effective is the Scare Eye Diverter, a tear-drop-shaped iridescent foil deterrent emblazoned with a large "predator" eye. The same holds true for the Bird Scare Balloon, a large inflatable "beach ball" that also has a big predator eye. When the Diverter and Balloon bob and weave in the wind, birds regard them as predators. For best results, Bird-B-Gone suggests that visual bird deterrents be moved around so that birds don't get used to them.