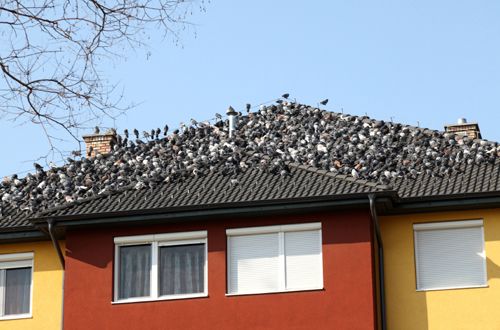 The pigeons are coming. So are blackbirds, starlings, house sparrows and crows. They'll be invading your property en masse as bird season approaches. Will you be ready to get rid of birds when they arrive?

Prepare now or risk having your home invaded by birds. Your cars will be spotted with bird droppings. So will your windowsills and patio furniture. Larger pest birds will tear apart your roofing shingles, causing leaks. Smaller birds will build nests in your rain gutters, causing water to back up under your roofing tiles and, once again, you'll have a leaking roof. Birds large and small will contaminate your pool and spa, so you'll have to drain and clean them—not a pleasant thought.

Unless you have bird control devices in place, it will become increasingly difficult to get rid of pest birds. The temptation will be to use lethal means—like poisons or pellet guns—or stop-gap measures like water hoses and firecrackers. Eventually, under pressure from your kids and neighbors, you'll agree to more humane bird deterrents. Devices that actually work. Here's what the pros recommend:

Scarecrows for Pools, Spas and Gardens

Highly recommended for deterring all types of birds from areas where the presence of water is tolerated, Scarecrows are motion-activated sprinklers that spray a harmless but persuasive blast of water at any bird that wonders into its zone of protection. Scarecrows hook up to any standard garden hose and will guard a 1,200-square-foot area (or a 35-foot by 45-foot wide shape). The Scarecrow's sensitivity and coverage area can be easily adjusted to suit the needs of your garden, pool or spa.

Bird Spikes for Roofs & Patio Covers

Birds usually seek a high perch from which to observe before they dive bomb your pool, spa, patio tables or car. Bird Spikes deny them that perch. Ideal for larger birds like pigeons and crows, Bird Spikes are harmless to birds, people and pets. They have earned the approval of the U.S. Humane Society and PICAS (Pigeon Control Advisory Service). The spiked strips come in rigid unbreakable polycarbonate (plastic) or durable stainless steel. Gutter spikes are also available to keep birds out of your rain gutters. All are easy to install using glue, screws, clips or tied downs.

Balloons and Diverters for Trees
Known as Visual Bird Deterrents, Reflective Bird Diverters and Predator Eye Balloons bob and wave in the breeze to get rid of birds through intimidation. Diverters are tear-drop shaped panels covered with a big predator eye. They are hung in various lengths and spaced 2 to 3 feet apart. Predator Eye Balloons are covered with huge predator eyes. Look for visual deterrents made of weather-resistant vinyl plastic. For best results, it's best to move these bird deterrents around often, or most birds will eventually get used to them as a non-live object to be ignored.