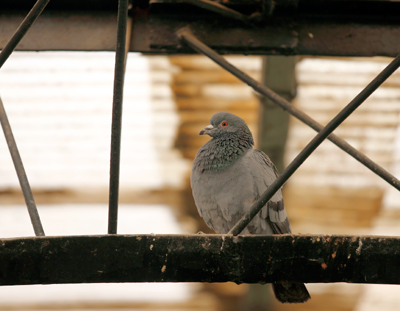 by Alex Kecskes

If your home has a separate garage or shed, you probably have pest birds roosting and nesting either inside or under the eaves. Birds love to perch on the rooftops and exposed beams of these structures. And unless you deter them with some bird control device, birds will continue to gather in greater numbers in and around these structures. Eventually, birds will even start to nest and roost under the eaves of your home.

The longer you wait to implement some effective bird control measures, the more brazen the birds will become. They'll start to gather in your back yard and leave droppings all over your pool, spa, patio, and BBQ. Keep in mind that birds can carry any of 60 known diseases. If you have children or pets, you'll be cleaning up the bird droppings on a daily basis.

The good news is that there are a number of humane and effective bird deterrents that you can use. Here are a few that you should look into:

Garden Bird Netting

Lightweight and easy to handle, Garden Mesh Netting will block birds from specific nesting sites around your shed or garage. It comes in 14 x 100-foot and 14 x 200-foot rolls, but you can easily cut it down to the size. It's also available in three different "mesh" sizes--1/4" mesh, 1/2" mesh and 3/4" mesh. It's easy to install under eaves and other areas, especially if you use the bird netting clips that are recommended. The netting is made from a durable, UV-protected polypropylene. It's strong, lightweight and virtually invisible.

Bird Slope

Scientifically designed to keep pest birds away from eaves and similar nooks and crannies, Bird Slope are slippery PVC panels that mount under eaves to prevent birds from gaining a foothold. They scramble and "squirrel-cage" with their little toes and finally give up, moving on to other more hospitable areas. The best bird slope panels are UV protected and sun- and weather-resistant to last longer. Bird slope is ideal for deterring a wide range of birds—including swallows, starlings, pigeons and seagulls. The panels blend in with most architectural styles and they're now available in two colors--stone and grey.

Copper Stuf-Fit Mesh

Ideal for keeping pest birds out of small holes and crevices, Copper Stuf-Fit mesh creates a physical barrier that blocks out birds. It's ideal for use in openings and tight spaces too small for regular netting or other products. The mesh comes in 20-foot and 100-foot roles and can be "formed" into the shape of the area needed to deny birds access. The wire mesh will hold its shape in tight areas to prevent birds from "working" their way around it. It can also be used to block birds from getting under roofing tiles, retractable awnings, and where pipes enter siding or foundations.

No Nasty Nest

Ideal for use in blocking swallows, No Nasty Nest consists of hanging "twine" that denies birds access to nesting sites. Faced with wading through the twine strips, birds will simply move on to a better spot to nest. If you have swallow mud nests under the eaves and sides of your garage, shed or home, you'll want to get this bird deterrent. Each strip of No Nasty Nest has a self-adhering back for fast application on eaves, gables, entryways and other areas.