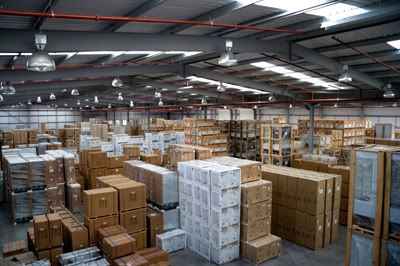 by Alex A. Kecskes

Pigeons, sparrows, crows, gulls—they can become costly headaches to commercial warehouses. For starters, they create a dangerous distraction to employees operating forklifts and other machinery. And lest we not forget that bird nests, feathers and other debris are ideal kindling for starting fires near electrical equipment, wiring and hot lights.

Then there are the bird droppings, which create a whole slew of problems in warehouses. Not the least of which are slip-and-fall hazards. There's also the contamination factor--birds can carry any of 60 known diseases. And the cost of damage to products on shelves and in loading docks can be severe. Finally, the acid in bird droppings can eat into packaging, obscure labeling codes and other shipping information. This can create all sorts of problems for inventory control and expediting personnel.

Rather than resorting to poisons or BB guns to clear your warehouse of pest birds, you should consider using non-lethal, humane bird deterrents.

One of the most effective bird deterrent systems on the market is the Automated Avian Fogging System. This advanced hazing system releases a fine fog into the air to deter pest birds from large spaces. It's been proven highly effective in driving out pigeons, sparrows, crows, gulls, even vultures from warehouses, factories, airline hangers and many outdoor areas.

This powerful bird control tool is the first fogging unit to offer programmable components and a computerized touch screen. It works by dispensing a chemical known as methyl anthranilate--a grape extract proven to be effective in repelling pest birds. The extract irritates birds' trigeminal nerve and mucous membranes through entry in the eyes, nose or mouth. Birds find the sensation very annoying and will seek the nearest exit the minute they get a healthy whiff of the chemical.

There's plenty of flexibility in how the system dispenses the fogging chemical. For example, a control unit lets you attach up to 64 fogging "drop" units, and each unit can be controlled individually. An adjustable nozzle system lets you direct the chemical spray to areas where pest birds tend to flock and roost. A unique nozzle design delivers a 5-micron particle size spray, which leaves no chemical residue. What's more, each drop station covers approximately 6,000 to 8,000 square feet. You can also control the dispensing times, so that the spray units will begin dispensing fog all at once or at alternating intervals. A convenient control panel monitors liquid levels, and notifies you when to refills are necessary.

Another effective pest bird deterrent for use in warehouses is No-Knot Bird netting. This low-profile netting creates a barrier that physically excludes pigeons, sparrows, gulls, starlings and crows. The netting is available in two mesh sizes to deter various size pest birds. For example, there's a 2-inch mesh for pigeons and crows and 3/4-inch mesh for sparrows and smaller birds. No-Knot Bird Netting comes with a 10-year guarantee. It's fabricated of flame resistant, multi-strand polypropylene fiber and is highly resistant to many chemicals. It's also ISO 1806 Protocol Mesh tested, and it won't rot, absorb water, or mildew. Another advantage of No-Knot Netting is that it is very light and easy to handle, yet it has a break strength of 50 pounds.

Before using any bird deterrents, be sure to remove bird droppings, feathers and nesting materials. (Birds are attracted to this debris and will regard the venue as "friendly.") Use commercial disinfecting cleaning agents to prevent exposure to any of the 60 known airborne diseases caused by birds. You should also use eye and respiratory protection if the area is heavily contaminated with bird droppings.